Soul Journeys
Sacred Chant Circle
Join us on Sunday, May 7th, 2017 at 10:30 AM
Followed by Pot Luck Pescatarian Bagel Brunch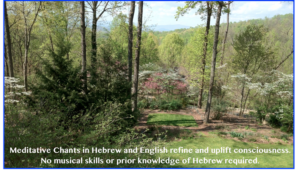 Leaders: Ariel Tzvia Lippman, Prahaladan Mandelkorn, and Sara Greenfield
75 Hickory Lane, Charlottesville, VA 22911
Please arrive promptly by 10:30 AM Start Time
Park along the fence of the driveway. If its nice out we'll chant outside,
and we can take a walk/hike in the woods after brunch
Free & All are Warmly Welcome—Please Forward Invitation
For information and planning kindly RSVP to: http://pnaiyisrael.org/chant-circle-contact/
But if you forget to rsvp, don't worry, come anyway! Directions attached.
Questions, call 434/984-0011